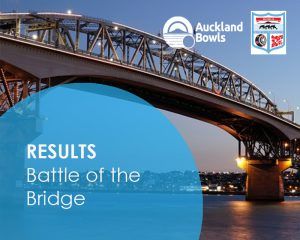 OVERALL RESULT AUCKLAND 44 MATCHES TO NORTH HARBOUR'S 40
The annual Battle of the Bridge challenge was held on Sunday 5 December at three venues across Auckland.  Two Open Men's sides, two Open Women's sides plus Men's and Women's sides of 1-5 Year bowlers made up the centre representatives.
The format is based on the Ryder Cup where each side names each team prior to a random draw to determine who plays who.  This creates some interesting matchups.
Each side participates in two x Fours, four x Pairs and eight x Singles making a total of 84 matches up for grabs.
After the Fours disciplines, North Harbour held a 7–5 lead.
Round 2 was the Pairs and all Auckland sides lifted their games to win 15–9 and take a 20–16 lead into the final round of Singles.
It was nerve crunching as the results trickled in, firstly Auckland Open Men results looked promising; however, the 1-5 Year results were going North Harbour's way.  Auckland Open Women, steadied the ship and the final count went Auckland's way 44–40.
OPEN PREM WOMEN
After the torrential rain that surrounded Auckland on Saturday evening, Auckland and North Harbour were greeted at Blockhouse Bay with no likelihood of rain, superb hospitality, efficiency and greens that had been well prepared.
The first two rounds of Premier 1 and Premier 2 Fours and Pairs saw both Auckland and North Harbour equal on points and differential. 
It all came down to the 16 bowlers playing their Singles matches.
The swirling wind whilst challenging for all had all players matching each other, bowl for bowl.  Close games ensued with the outcome of the day a draw:
Auckland Blue 8 points, North Harbour Prem 1. 6 points
Auckland White 6 points, North Harbour Prem 2, 8 points
OPEN PREM MEN
Whilst training was limited during the lockdown, most were happy to be back out on the green.  There were a few new faces with a couple performing really well on their first outing. New combinations were tried during the event, leaving the selectors quite happy with the results.  The experienced Galloway and Grantham lead by example.
New to the team, Calum Height impressed in his first representative outing.  He Skipped well in the morning and was only just pipped in one of the best singles games of the afternoon.  All in all, it was a solid all-around performance.
Auckland Blue 9 points, North Harbour Maroon 5 points
Auckland White 9 points, North Harbour Black 5 points
1-5 YEAR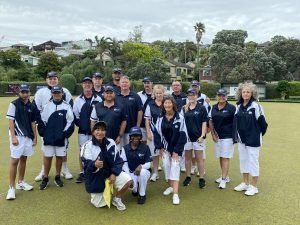 There were gusty conditions throughout the day which tested and challenged all players to their fullest.  The relatively young and inexperienced team included seven new players making their debut for Auckland.  
Both Women's Fours started off slowly but finished strongly, alas it was a little too late resulting in two close losses, it was 3–1 to North Harbour.  The Men's Fours had a close battle all the way, ending up with one win and one loss, after the first round.
The second round was the Pairs.  The Women won two out of four matches while the Men started to show their stuff with three big wins and one closely contested loss.   
After the second round, it was all square 6–6 and a big plus differential going into the 16 Singles matches. 
The Women shared points, four all out of the eight matches, each side delivering great bowls.  We saw great wins from Kim Tilly, Angela Longney, Philly Akaruru and Linda Fenton.
The Men struggled in the third round winning two out of the eight matches.  Both Eddie Jones and Darryl Mackie played well for their wins.  The overall result for Men and Women squads were 6-8 losses each to North Harbour.
1-5 Year Women 6 points, North Harbour 8 points
1-5 Year Men 6 points, North Harbour 8 points
North Harbour were worthy opponents and truly tested our squad.  Auckland's team delivered some good performances, especially from the debut players who show promising futures.  The 1-5 Year squad stands to lose six to seven players next year, so its challenges like the Battle of the Bridge go a long way to building our future.
Finally, we wish to extend a very big thank you to all the host clubs; Milford Bowls, Blockhouse Bay Bowls and Papatoetoe Hunters Corner for the warm and generous welcome extended to all the players and team management. 
The host clubs are to be congratulated for their friendly hospitality, delivering greens in superb condition and for the generosity of all their volunteers and match play officials.
Here are the final results and as a reminder the full list of Auckland players