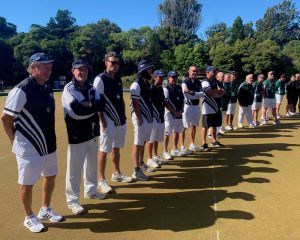 Congratulations and well done to the Auckland Men's Open Prem squad for being runners-up at the recent 2021 National Incentre event.
The squad opened their competition with three wins from three matches; 2-1 against South Otago, 3-0 against Taranaki and 2-1 against Southland.  They ended the day as Section leaders.
Day two at Silverstream Bowling Club the Men continued their winning way with two from two;  Northland 3-0 and West Coast 3-0.  The team qualified in first place and won Section 4 with 10 match points, 13 game points and a net total shot of +76.  This meant the two top qualifiers, Auckland and Southland would head to Wilton Bowling Club (HQ) to play the first match of Post Section.  Winners of Section 4, Auckland had to play the runner-up of Section 1, Wanganui.
The wind was up at Wilton that afternoon and the greens were tricky to play on. Auckland's Pairs lost their first game of the tournament to Wanganui which meant we had to win the Singles and Fours to make it to the semi-finals.  Our Fours team played superbly all-tournament, they won over Wanganui 17-10.  This tied the match at 1-1 it all came down to the Singles.
At one stage Jamie Hill was down 17-24 to Bruce Winterburn of Wanganui, Bruce only needed one shot to win.  Jamie played superbly over the final ends picking up eight shots to win the game 25-24.
This put Auckland through to the semi-finals and in-line to play Manawatu or Wairarapa. With the match tied up at 1-1 it came down to the Fours with Wairarapa finally winning a close game.
On Sunday, it was back to HQ, Wilton Bowling Club to play Wairarapa in the semi-finals.  The other semi-final was between Wellington and Southland.  
Jamie just lost the Singles 24-25 and our Pairs won 20-15 making the match 1-1, it all came down to the Fours game. On the last end, Wairarapa was ahead by one shot on the board at 10 points to 9.
Our Fours played well to win the end by two shots with the final score being 11-10 to Auckland.  This put us into the final against our mates from Southland, whom we had beaten previously in section 4.  Southland beat Wellington 2-1 winning the Singles and Pairs.
The final started well in all three disciplines however, when we lost the Singles it came down to the Pairs and Fours. Unfortunately for us Sheldon Bagrie-Howley played a couple of key shots and our Pairs lost, our Fours got up to win and Southland won the 2021 National Men's Inter-Centre for the first time by 2-1. We finished a creditable runner-up.
Our Fours played superbly all tournament and finished unbeaten.  Congratulations to Gary Lawson, Jordan King, Aiden Takarua and Rory Soden.  The squad voted Rory Soden as the MVP while Gary Lawson deserves a special mention for his leadership and professionalism.
The Men's team achieved its goals of qualifying first then finishing in the top three of Centres for this event.  We just fell short in the final, however, we will build on our success for next year's event.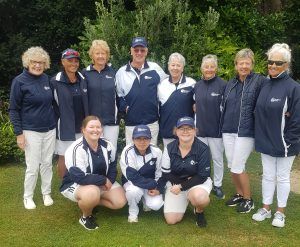 We also wish to thank the Women's Open Prem squad for a great effort in competing.  While starting well, they were unable to build on recent success and momentum to bring home another title.  Next year ladies!
Thank you to both management teams, selectors, coaches and of course to all the great rep players.  Thanks also to Auckland Bowls, and Auckland Bowls Board for their support.