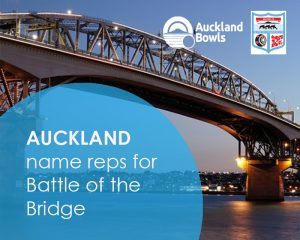 Auckland Bowls is pleased to announce the Auckland Centre representative sides playing in the Battle of the Bridge 2021 challenge on Sunday 5 December.
OPEN PREM MEN
Blue Team
Zak Abro, Gavin Brown, Martin Dixon, Mike Galloway, Tony Grantham, Aiden Takarua, Bryce Mackie, Adam Wishnoski.
White Team
Mike Bradshaw, Darral Gordon, Callum Height, Steve Hoeft, Peni Panapa, Nick Thompson, Teo Turua, James Williams.
Team officials: Tom King, Neville Hill, Sean Hird.
OPEN PREM WOMEN
Blue Team
Catherine Bien, Karen Hema, Estelle Hickey (Captain), Lisa Prideaux, Judy Raill, Linda Ralph, Jenny Stockford, Linq Qu.
White Team
Carol Berry, Jo Cheng, Jaime Delany, Tessa Farley (Captain), Jane Field, Karen Kuzimski, Rima Strickland, Janine Young.
Team officials: Diane Harris, Helen Blick.
1-5 YEAR MEN
Adam Blucher, Warwick Catchpole, Steve Fisher, Jean-Claude Fuller, Liam Hill, Steve Hodder, Eddie Jones, Darryl Mackie, David Motu, David Weir.
1-5 YEAR WOMEN
Philly Akaruru, Jeanine Browne, Linda Fenton, Tina Jerrom, Angela Longney, Shelley McCabe, Nicole Singer, Kim Tilly, Andrea Wilson, Pip Wilton.
Team officials: Peter Blucher, Robyn Reihana, John Ross, Chris Staples.
VENUES
Open Prem Women
Blockhouse Bay Bowling Club
33 Terry Street, Blockhouse Bay
Ph:  09 626 6450
Open Prem Men
Papatoetoe Hunters Corner Bowling Club
247 Great South Road, Papatoetoe
Ph:  09 278 8619
1-5 YEAR
Milford Bowling Club
20 Commodore Parry Road, Milford
Ph: 09 410 7043
SCHEDULE (for all teams)

| | |
| --- | --- |
| 8:15 am | Report time |
| 8:30 am | Fours live draw |
| 8:40 am | Trial ends |
| 8:55 am   | Fours matches |
| 11:25 am | Lunch |
| 12:00 pm | Pairs live draw |
| 12:10 pm | Pairs matches |
| 2:45 pm | Singles live draw |
| 2:55 pm | Singles matches |
| 5:30 pm | Winners presentation |
Congratulations to all players making the rep sides.  We look forward to finding out how you have enjoyed the challenge.  
We are sure the players would love to get your support. so if you are able, pop along sometime during the day to cheer them on.