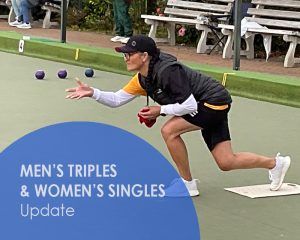 Thank you to all those who registered in the Auckland Men's Triples and Women's Singles tournaments which were due to be played on 19 & 20 November. We were looking forward to watching everyone getting out on the greens and playing! Further, we thank all those who were going to support the tournaments including host venues, greenskeepers, umpires, markers, and volunteers!
Unfortunately, the weather had other plans, and Tāmaki Makaurau was drenched in over 50mm of rain from Thursday through to Sunday, resulting in the tournaments not going ahead.
The Operations Committee met to decide if the tournaments would be postponed or cancelled. After exhausting all options and not wanting to interfere with planned club activities, it has reluctantly been decided the Men's Triples and Women's Singles will be cancelled (and will not be postponed to a later date).
We appreciate that players paid to play & were unable to enjoy the opportunity. For all those who did you will be issued a full credit which can be used for any future Bowls Auckland events. To activate this credit, please email [email protected]. If, for whatever reason, you cannot play in future events or would like to request a full refund, please email [email protected]. 
Bowls Auckland apologises for any inconvenience caused. We have taken learnings from the weekend and reviewed our processes with the aim to maximise all playing opportunities, including a more robust wet weather plan, which will be actioned in future events. 
We thank all clubs who make themselves available for any centre events, whether natural or artificial, and we couldn't do it without your help!
We look forward to, in collaboration with the clubs, hosting the Men's and Women's Pairs this weekend and will do everything we can to ensure they go ahead! It seems once we get through the rain this morning, the outlook is looking much more positive for Friday and into the weekend! Bring on the bowls!