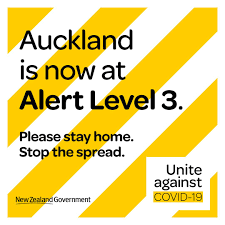 As of 11:59pm, Sunday 14 February 2021, Auckland will move to Alert Level 3 and the rest of New Zealand will move to Alert Level 2 until 12 midnight, Wednesday 17 February.
The Ministry of Health's Covid-19 website provides all the guidelines you need to know, although for your convenience we have provided their guidelines below.   
Please remember to stay safe, take care of yourselves, look after one and another, check in on your family and your neighbours. 
We'll provide you further information as it comes to hand, but should you have any concerns, please refer to the Ministry of Health website directly.

Everyday life
If you're sick, stay home. Don't go to work or school. Don't socialise.
If you have cold, flu or COVID-19 symptoms call your doctor or Healthline and get advice about being tested.
If you have been told to self-isolate you legally must do so immediately.
Get tested if you have cold, flu or COVID-19 symptoms. Tests are free
COVID-19 symptoms

Self-isolation, quarantine and testing
At Alert Level 3 you legally must stay home in self-isolation until you receive your results.
How testing and quarantine works

Good hygiene
It's important that you use basic hygiene measures, including washing your hands, coughing or sneezing into your elbow and cleaning surfaces.
How to practise good hygiene and stay healthy

Keep track of where you've been
We recommend you keep track of where you've been and who you've seen. This helps with rapid contact tracing if it's required.
How to keep track of where you've been
Businesses legally must display the NZ COVID Tracer QR code poster.
Get your NZ COVID Tracer QR code poster

Personal movement
At Alert Level 3, we recommend you stay in your household bubbles whenever you're not at work or school.
You legally must stay within your household bubble. You can expand this to:
connect with close family and whānau
bring in caregivers, or
support isolated people.
It's important to protect your bubble. Keep your bubble exclusive and only include people where it will keep you and them safe and healthy. If anyone within your bubble feels unwell, they legally must immediately self-isolate from everyone else within the bubble.
Do not invite or allow social visitors, such as friends, extended family and whānau, to enter your home.

Physical distance
Keep your distance when outside your home.
Maintain physical distancing of 2 metres outside your home, when buying the groceries or exercising.

Face coverings
You're strongly encouraged to wear a face covering when you're outside your home and in a place where it's hard to stay 2 metres away from other people, like in shops.
You legally must wear a face covering on public transport.
Face covering advice and requirements

Local travel
You can travel within your local area, for example going to work or school, shopping, or getting exercise. Public transport can continue to operate with strict health and safety requirements.
Local travel at Alert Level 3

Travel between regions
At Alert Level 3 travel between regions is heavily restricted.
Regional travel

Border restrictions
There are controls at the border for those entering New Zealand. This includes health screening and testing for all arrivals, and mandatory 14 day managed isolation or quarantine.
Travel to New Zealand

Gatherings and events
Gatherings of up to 10 people can continue, but only for:
wedding services
funerals and tangihanga.
Physical distancing and public health measures legally must be maintained.

Public venues
Public venues legally must close. This includes libraries, museums, cinemas, food courts, gyms, pools, playgrounds and markets.

Exercise and recreation
Now is not the time to take up new activities, or expose yourself or your bubble to any risk. You can do low-risk recreation activities in your local area.
How to exercise and do recreational activities safely at Alert Level 3

Workplaces and businesses
At Alert Level 3, there are restrictions to keep workers safe, limit interaction with customers and help prevent the spread of COVID-19. We recommend staff working from home if they can.
How to do business at Alert Level 3

Golden rules for business at Alert Level 3
If your business requires close physical contact it can't operate.
We recommend your staff work from home if they can.
Businesses need to display a QR code and have an alternative contact tracing system. We recommend making sure people either scan in or provide their contact details. 
Customers cannot come onto your premises — unless you are a supermarket, dairy, butcher, fishmonger, greengrocer, petrol station, pharmacy or permitted health service.
Your business legally must be contactless. Your customers can pay online, over the phone or in a contactless way. Delivery or pick-up legally must also be contactless.
Basic hygiene measures legally must be maintained. Physical distancing, hand washing and regularly cleaning surfaces. Workers legally must stay home if they are sick.
Staff legally must remain a minimum of 1 metre apart at all times where practical. Other measures, such as PPE including face coverings, we recommend being used where appropriate.
Different advice applies to essential healthcare workers, border agencies, courts and tribunal staff, first responders and corrections staff. You can get further advice  from the Ministry of Health(external link).
You legally must meet all other health and safety obligations.
Businesses and services allowed to operate at Alert Level 3
At Alert Level 3, most business and services can operate (in accordance with the required public health measures), but there are restrictions on the businesses that can operate with customers on their premises.
In December 2020 the settings for businesses and services at Alert Level 3 were updated to:
provide that contactless pick-up be permitted to take place within malls, outside individual stores rather than outside the mall itself; and
allow butchers, fishmongers and greengrocers to operate on the same basis as supermarkets and dairies – i.e. with customers on their premises.
Financial support
If you're having trouble with money, there may be support for you.
Financial support information
At-risk people
People at higher risk of severe illness from COVID-19 are encouraged to take additional precautions when leaving home.
Advice for people at risk of COVID-19
Education
Where possible we encourage students to learn from home. Schools can safely open but will have limited capacity.
Educational facility restrictions at Alert Level 3