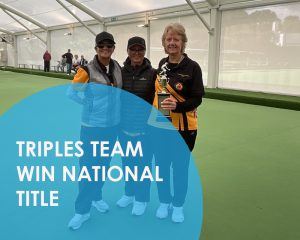 Carlton Cornwall's Triples team of Karen Hema, Linda Ralph and Lisa Prideaux continued their in-form season, convincingly winning their way through to be crowned 2022 National Champion of Champions Women's Triples titleholders.
Carlton Cornwall was a cohesive unit, all playing terrific bowls. Lisa and Linda were consistent with the placement of their bowls to set up the wins. This put the opposing teams under continued pressure. Meanwhile, Karen added to the pressure by ensuring to cover bowls or add to their tally. The team from Auckland was undefeated in all four games to qualify.
With a bye in the quarter-final, they went straight to the semi-final match, defeating Debbie Sansom, Debbie Salt, and Jackie Sutton from Woolston Park, 22-7.
In the Final, they played against Jean Stratford, Evelyn Ussher, and Robyn Hall from Waihopai. Karen, Lisa, and Karen were too dominant, winning the match, 20- 5.
Congratulations to Linda, Karen, and Lisa for another outstanding achievement for the season. A special congratulations to Linda Ralph for being awarded her National Silver Star for winning her fifth national title:
2012 – NZ Club Champion Singles 
2014 – National Mixed Pairs
2019 – Women's National Incentre 
2021 – National Champion of Champions Fours
2022 – National Champion of Champions Triples