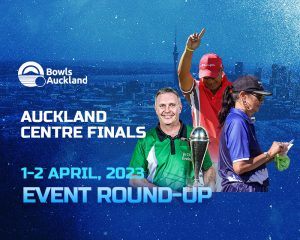 Auckland Centre Finals on 1-2 April 2023, was an excellent opportunity for players to come together to compete against peers as the championship events are rounded out. The advantage of having several disciplines play at the same venue, on the same day is that competitors get to play in front of supporters, club members, whānau, and friends – and to a broader audience for live-streamed matches.
Day One was earmarked to complete the qualifying rounds of the Men's and Women's Pairs, both played undercover at New Lynn and Remuera, respectively, and Day Two on Sunday, 2 April, at Remuera Bowls had a full schedule of play.

Auckland Women's Pairs: St Heliers 18 – 11 Royal Oak
Royal Oak's duo Robyn Fisher and Lee Singer opened well, scoring in the first two ends of the match, only for the St Heliers pairing of Catherine Bien and Ling Qu to score three in two consecutive ends.  St Heliers led, 6-3 after the 4th.  St Heliers consolidated their points, leaving Royal Oak scoreless in ends 6 to 8.
From there, Royal Oak began to claw back the score – at the end of the 13th, it was 13-10 only for St Heliers to pick up a three in the next end.  Catherine and Ling remained composed for the remainder of the match to take the win.
Both teams really enjoyed the new carpet and its playing speed.  Catherine and Ling continued their pressure bowls from the previous day against Epsom and Pt Chevalier. Ling acknowledged her playing partner's contribution, "Catherine reminded me to control my rhythm, to keep calm and to remember to drink water and continue to set the head!" says Ling.  "I had a high percentage of effective bowls at the head so Catherine could consolidate or convert the shot. It was a great team effort." 
Up next for the new titleholders is to be part of St Heliers' team playing at the National 7s in Wellington.
This match was live streamed – follow the link to view it on our YouTube channel
Auckland Men's Pairs: Henderson 16 – 10 Pt Chevalier
It was the battle of the green shirts for the Men's Pairs when Henderson's Tony Garelja and William Fulton competed against Steve Hoeft and Nick Thompson from Pt Chevalier.
Henderson was too strong for the Pt Chevalier side.  While it was neck-in-neck bowls in the first five ends, to share the scoreboard 3-3, Henderson's pressure bowls left Pt Chevalier scoreless from ends 7 to 13 to push ahead 13-6 to then take the title, 16-10.
Auckland Men's Triples: Royal Oak 18 – 10 Pringle Park
It was going to be a big ask for Pringle Park's Wayne Ruka, Kolani Maota and Josh Tipene who were matched up against the experienced and masterful Mike Galloway, Martin Dixon, and Gavin Brown from Royal Oak.
Pringle Park played with heart and determination however the deficit accrued against them couldn't outshine the Royal Oak side.  This Royal Oak trio continues their dominance in the Triples discipline by notching up another title.
This match was live streamed – follow the link to view it on our YouTube channel
Auckland Women's Triples: Carlton Cornwall 15 – 12 Te Atatu Peninsula
Carlton Cornwall's Estelle Hickey, Helen Blick and Jeanine Browne Finals match was against Te Atatu Peninsula's Robyn Reihana, Marion Hakaraia and Jenny Jones.  Carlton Cornwall was first to score.  In the fourth they had picked up a healthy five points.
Robyn Reihana commented "Dropping five on the 4th was hard to recover from.  While we worked to gain back points in the later stages, it wasn't enough on the day."  Robyn was full of praise for their opponents, "Estelle played out of her skin, she was outstanding and, in my mind, would easily be their player of the day."
Auckland Men's Fours: Mt Albert 14 – 7 Pt Chevalier
Pt Chevalier's combo of Aiden Takarua, Alex Reed, Harry Davis and Colin Williams are no strangers to playing in Finals competitions and picking up titles.  Mt Albert's side had plenty of credentials as well, including NZ international Blackjack Tony Grantham, Randall Watkins, Neven Grgecevich and Zoran Bartulovich. 
This Final was an epic, bowl-for-bowl battle throughout the match – neither side wanted to concede crucial points.  At the halfway mark it was 4-4.  Zoran's bowls were on the button, and Tony was decisive with his draw play. 8-6 to MABC at 11 ends, 8-7 at 13 ends. 
Looking for contact and movement, loose attacking play by Pt Chevalier turned the advantage to Mt Albert, it's 12-7 after 14 ends. 
A tenacious Pt Chevalier was defeated in a tight battle, 13-7.
Hot off his medal-winning success at the Multi-Nationals in the Gold Coast, Tony said he was tired having only arrived back in the country on Saturday evening.  They had played on slower greens in the Gold Coast so he had to adjust to the faster-running green at Remuera.  At the trophy presentation, he attributed Mt Albert's win to his teammates.
This match was live streamed – follow the link to view it on our YouTube channel
1-5 Year Pairs:  Ellerslie 19 – 9 Royal Oak
The young guns playing for Ellerslie David Motu and Liam Hill shut out Royal Oak's Steve Fisher and Colin Ayris-Webster. David and Liam have graduated from their 1-5 Year status by earning a title!
David said, "I'm excited yet tentative about moving out of 1-5s."  He and Liam have been active in competitions.  Both were included in the Auckland Premier 2 team competing in the inaugural Octagonal Challenge on 18-19 March, both entered the Bowls NZ Rangatahi U21 Singles on 25-26 March, where David was placed second. David is named in the NZ U26 squad to compete in the inaugural Oceania Challenge, while Liam is named in the Tongan Men's squad.
David and Liam have a great bowling future ahead of them!
1-5 Year Men's Singles
Due to a Finals competition clash, we were able to complete one of the semi-final matches. 
Pt Chevalier's Stephen Campbell progresses to the Final defeating Warwick Catchpole, 21-16.  The remaining semi-final will occur on 16 April (or as agreed to by the players).
1-5 Year Women's Singles
Andrea Wilson from Papatoetoe Hunters Corner was awarded the title. 

Congratulations to
all the new champions for the 2022-2023 season and for earning a coveted Centre title!
A big thank you to
our host clubs New Lynn and Remuera and their volunteers
Tournament Convenor Les Smith, Umpire Phil Bowden, and match markers
a special thanks to Bowls NZ broadcast team Alex, Colin and Brendon along with guest commentators Brett O'Reilly and Gerard Hulst