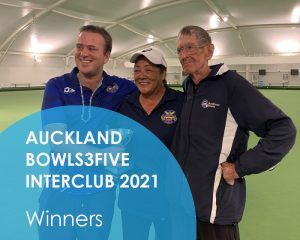 There was calm at the start of last night's Auckland Bowls3Five Interclub 2021 finals at Remuera Bowling Club, as the live-draw revealed who was matched against who for the remaining eight teams.  
Once trial ends were completed the steely determination to get a final spot took hold.  There was some really great bowling – we had incredibly close matches with all semi and final matches going to tie-breaks!  Well done to all the teams making it through. 
Congratulations to:
Winners – Auckland Originals 1 from Auckland Bowling Club: Maria Smith, Bevan Beckham and Neville Hill.  
Runners-up – Te Atatu Team Tama from Te Atatu Peninsula Bowls: Marion Hakaraia, Craig Harold and Steve Gaughan.
You can view final results here – Bowls3Five Interclub 2021-final result