On Sunday afternoon, 20 June Auckland Bowls hosted its 2021 Awards luncheon held at Royal Oak Bowling Club.  The event was full of players and their families from across many of Auckland's bowling clubs, ready for an afternoon of celebrating the successes and achievements of Auckland bowlers and clubs.
Stephen McIvor was the MC for the afternoon presenting more than 100 awards to players and clubs.
Amongst the numerous trophies, badges and certificates handed out, there were three Special Awards worthy of a mention:

Young Bowler of the Year – Paris Baker, New Lynn Bowling Club
Bowler of the Year – Mike Galloway, Royal Oak Bowls
Club of the Year – Blockhouse Bay Bowls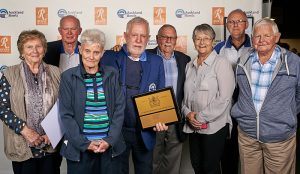 We also celebrated players who achieved gold star status for the last two seasons:
5 titles
Paula Kempthorne – St Heliers, Aiden Takarua – Pt Chevalier, James Gavin – Royal Oak, Clara Bowman and Alison Rennie – Carlton Cornwall
10 titles
Sue Curran – St Heliers, Tony Garelja – Henderson
15 titles
Gavin Brown, Martin Dixon and Mike Galloway – Royal Oak
Congratulations to all of our award winners and congratulations to all players competing in bowls events around our region.  Thank you to our host club, Royal Oak Bowls and thank you to our sponsor, Ryman Healthcare.
We'll have more photos to share in the next few days.