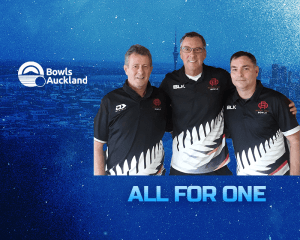 The catch-cry made famous by the Three Musketeers is known around the world, but in Auckland bowling circles it has its own special place. Most players would readily recognise who this feature is about already, but just in case you're new to the game, it refers to a remarkably successful trio who have gathered more than 50 Auckland Centre titles between them.
A match against these guys follows a predictable pattern. You go to the Triples draw, and see Galloway M / Dixon M / Brown G (Royal Oak) standing in your path like a lion. Insert your favourite expletive now. After five minutes of bemoaning your luck, your resolve starts to harden. 'Well, I'd better play my best against these blokes, or we're in all sorts of strife.'
It's an old hat to the Royal Oak trio. They expect every opponent to start positively. 'At that stage, it's about being strong at the front,' says lead Gavin Brown. 'Not giving much away. We do our bit to create chances for Mike to do his thing. Everyone knows he's the best conversion player in Auckland.'
Marty Dixon then puts a couple of telling shots on the head. 'We look to not lose any ground over the first third of the match. We always believe we will play more quality bowls over the course of a game; the early aim is to keep the pressure on our opponents.'
And Mike Galloway closes out the typical performance. "We normally have a good second half. We'll finish strongly.' And win a lot more than they lose.
It's part of every Auckland player's education to face off against this trio. You learn a lot about game management. Clearly, the three all understand the finer points, but there's no thought that only the skip or two open their mouths.
 'It's never been a dictatorship,' offers Galloway. 'Everyone has their thoughts and can say their piece.'
The trouble for opponents is, those thoughts always seem to line up. Who gets the final say if there are differences of opinion?
Three laughs. 'We've never had one.'
Never?
'Never. That's probably the key to the whole thing for us.'
They're mates on and off the green. Their wives are friends. After all, this team has been formidable for years, and it is a team in every sense.
They came together at Hillsborough from various parts of the bowling world – Galloway from Palmerston North via Pakuranga; Brown from Thames Valley and then Pakuranga, where he first teamed up with Galloway; and Dixon from Mount Wellington. They got together almost by chance, as often happens.
'We didn't really know each other at that stage, although all three of us had our Gold Star by then. We needed a two to complete our team, and someone said Marty was looking for a team to play in. So we joined up – it was for a Centre triples – and won it. And for the next two years as well,' notes Mike.
They have always played in the same order, and all three have the same memory as their proudest moment together. Gavin had not got much past: 'Winning the New Zealand Champion of Champions triples … ' before the others added: 'Same here,' and 'That's mine, too.'
Likewise, if you ask whether there is any unfulfilled ambition, there is one – one for all. 'We'd like that fourth Gold Star. It's getting closer. Only Ivan Kostanich has ever won four [he won 22 titles overall], and matching him would be a nice way to round out.'
But for that to happen, the enjoyment factor has to remain. It's there at the moment and shows no sign of burning out, as these replies to what keeps them going show:
Gavin: 'We're three good players, and we enjoy playing. As long as that lasts, we'll keep going.'
Marty: 'People sometimes ask me what keeps the drive alight. I just say that I'm playing to keep their name off the board (laughs). I enjoy it.'
Mike: 'You have to enjoy it. I'm still enjoying bowls, and so there's no reason to stop.'
So get used to seeing that Royal Oak combo in a few more championship draws yet.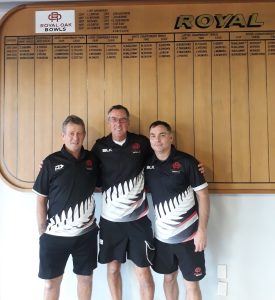 Marty Dixon, Mike Galloway and Gavin Brown in front of the Royal Oak Honours Board they dominate. 'There are still two to go up, too,' I was reminded. And probably a few more to come and all.