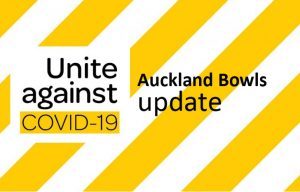 Today, Prime Minister Ardern announced:
all of New Zealand, south of the Auckland boundary, will move to Alert Level 3 at 11.59 pm on Tuesday, 31 August.

Auckland and Northland will remain in Alert Level 4, likely to be for a further two weeks. Cabinet will review alert level status on Monday, 30 August.
The extended Alert Level 4 means we will not be at an acceptable alert level to hold events. It means the 1-5 Year Pairs on 11-12 September, is postponed.  
We will announce the modified dates for the 1-5 Year Pairs and Fours following further Covid-19 updates from the Government and the Ministry of Health.
We hope all of our bowling community is keeping safe and well.

Useful information:
– Ministry of Health information on Alert Level 4
– Bowls NZ alert level guidelines for Centres and Clubs