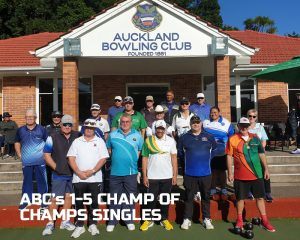 Saturday saw Auckland Bowling Club host a Junior Champ of Champs Singles event, which drew a good field on a perfect day for bowling.
The format was the same as for a Centre event – a player had to have won at their own club – with a cap of 16 players due to the fact only one green was available. That said, it still meant four rounds in one day for the finalists; in a Bowls Auckland event they would only have to play five rounds over two days, so it wasn't far off the real thing.
It was also pleasing to see a number of clubs, who may not be seen at many Centre tournaments, sending their representatives and some of the lesser-known players took a step forward as the day went on. As you would expect, every match was sternly contested and a number went well over 20 ends; the overall standard was very good.
The first semi-final pitted Shaun Goldsbury from Pt Chevalier, one of the pre-tournament favourites, against Terry Lister from Otahuhu Railway. The match was even for some time, but Shaun's ability to continually produce quality shots eventually wore Terry down. In the other semi, James Forsythe from Onehunga & Districts and Bridge Park's Paul Neazor squared off in a very even match. Scoring mostly in ones, the pair looked like being there until dark, but a four-end burst of scoring put Paul in front for good, with the 27th end finally seeing the match decided.
The final was everything one would expect, with both players being forced to battle for everything they got. The match, which ran 25 ends, saw eight lead changes and at no stage was either player ahead by more than three shots. Quality conversions and vital saves were almost routine, until Shaun's runner on the last end slid through a narrow gap, leaving Paul the winner by 21-19.
It may not have been an Auckland Centre title event, but to the players that didn't matter; every one of them approached the day as if it was. It was pleasing to see the interest in this event, which used to be a part of the calendar but which has fallen away in recent years, and the reaction to its revival suggests it's well worth pursuing.
The clubs that got behind this initiative should be thanked, and the players likewise. And, no less importantly, the markers – almost everyone turned up with one! It proved to be an excellent advertisement for 1-5 bowls and helped expose the depth in our game.
Photos:
The starting field all looking sharp in club colours, and the two finalists, Shaun Goldsbury of Pt Chevalier and Paul Neazor of Bridge Park, after their toe-to-toe battle to decide the winner.