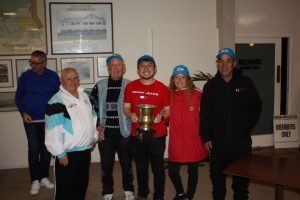 Saturday 14 August 2021
It was the most number of teams competing for the ABCA Cup that we have seen. There were 42 teams of mixed Fours playing across headquarters Remuera Bowls and host club Epsom Bowling Club.
As showers blew through during lunchtime, it didn't stop everyone from completing all four rounds. It was a great day of competition with players converging to Remuera at the end for prizegiving.
David Ball, GM Auckland Bowls, was on hand to talk to the players before handing out the prizes. Four teams had won all four games, with fifth and sixth place getters attaining three wins and a draw each.
ABCA would like to thank; the host clubs, the tournament convenor Gerard Hulst, the umpires Gwen Ng, Jamie Chen & Lorraine Beazley.  We'd also wish to thank the zone convenors & coaches for their organisation & finally, a special thanks to everyone who came along to support the teams.
Results:
Winners           South-West – Brendon Ton, David Ward, Rachel Reid, Toma Tione
Second            Central – Zoran Bartulovich, Peter Hooton, Mukesh Rohra, Elizabeth Akaruru
Third                South-West – Vai Gafa, Av Padayachi, Karen Valder, Shivan Padayachi
Fourth              Central – Tessa Farley, Leigh Anderson, Care Denny, Alex Akaruru
Fifth                 South-East – Linda Fenton, David Weir, Greg Dowdell, Tony Williams
Sixth                West – Adam Blucher, Jean-Claude Fuller, Rachel Lawler, Colin Ayris-Webster
We look forward to a successful 2022.
By Les Smith, ABCA