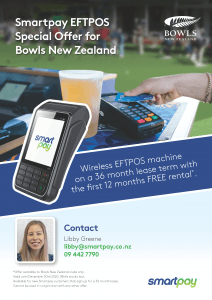 Bowls New Zealand and SMARTPAY have put together a special deal to allow you to introduce or upgrade EFTPOS at your club.
EFTPOS ensures you meet your member and casual customer payment needs and expectations.
Whether it is to pay a subscription, buy a drink or settle the bill for a large corporate function, EFTPOS provides a simple, safe and cost-effective way of maximising your club's income from members and guests.
THE SMARTPAY DEAL
 Wireless EFTPOS Solution
(charge it up and take it anywhere around the club)
Just $35.00 + GST per month and……..
 The first 12 months are FREE on a 36 month lease!
Call Libby on 09-442 7790
We've attached an information sheet below to show you the benefits of the SMARTPAY wireless EFTPOS solution. They have all the systems in place to set you up with EFTPOS, provide training, and fix any problems should something go wrong.
Once you've had a look at the offer we're sure you'll want to give Libby a call and get your club set up with EFTPOS for the coming season.
If you've already got EFTPOS with SMARTPAY, Libby will be happy to convert your existing agreement to this great new deal, and if you're already with another provider, call Libby to see when you can switch to SMARTPAY.
If you want to talk to us about the deal, please give Steve Beel a call on 021 966 017 or email to [email protected]