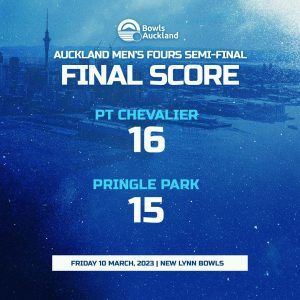 It was an outstanding Auckland Men's Fours semi-final between Pringle Park & Pt Chevalier played on Friday evening at New Lynn. Thankfully the match was played under New Lynn's cover as there was a shower or two – one was particularly heavy.
Both teams fielded their original players.
Pt Chev scored 1 in the first end. Pringle Park replied with a 3 in the second. From that point, Pt Chev started to take the lead. After the sixth, it was 12-3 after picking up 6 in the fifth end. Pringle Park rallied by scoring 7 in the remaining ends. Pt Chev did pick up a 4 on the 9th end.
As there were several kills, at least two with the last bowl of an end, the teams ran out of time at the start of the 14th end. Pringle Park picked up a 2 to fall agonisingly short – they lost, 15-16. Hard luck guys.
Congratulations Pt Chevalier, it was a great semi-final – you will meet Mt Albert in the Final.
Thank you New Lynn Bowls for being the host, and thank you also to Les Smith for officiating and providing a match report.