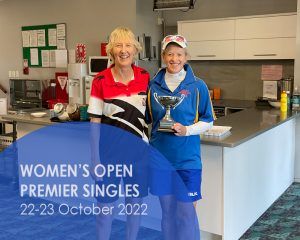 This event was last played in 2019, so we were excited to have this annual event back on the competition calendar this weekend. 63 entries for this prestigious event were received from 10 different centres, with players travelling from the Far North, Levin, Gisborne East Coast, and Dunedin. 
Saturday was qualifying based on sectional play, with the sixteen winners going through to the finals on Sunday. We had a live finals draw undertaken by Noeline Sadgrove, President of Howick Bowling Club.
The Round of 16 showed how close this competition is, with many players losing after holding early leads. Five of the eight games were decided on margins of less than four shots.
The Quarter Finals continued to show the toughness and competitiveness of this event as two games were decided 21-20. Interestingly, in both those games, the winners had a comeback from six-point deficits.
Semi-Final 1 saw Bronwyn Stevens from North East Vally take on Jenny Stockford from Pt Chevalier. Jenny made an early run – then, Bronwyn began to exert some dominance. Jenny fought back, but Bronwyn took out the match 21-16.
Semi-Final 2 saw Leeane Poulson from Papakura take on Millie Nathan from Birkenhead. Unfortunately for Millie Leeane was running red hot with no mercy and took out the match 21-7.
The Final saw Bronwyn Stevens take on Leene Poulson. The card shows both players scoring for two or three ends – then the other scores! It was a feature of the style of play favoured by each competitor. 
Bronwyn preferred short ends, whereas Leeane preferred long ends.  As each player wrestled the mat from the other, there was a period of adjustment before regaining the mat. At one point the score was 11-11 and then later, 17-all, two ends later it was 18 each. Bronwyn then showed some Dunedin magic as she drew three touchers in succession, with her fourth being a positional back bowl right on the plinth.  Leeane held her composure and continued to draw to save however by the cruelest of margins, it was not to be.
It was an exciting final to watch. Congratulations, to both finalists, A special thanks to the teams from Howick and Blockhouse Bay for your superb greens and fantastic hospitality.
Click here to view the results