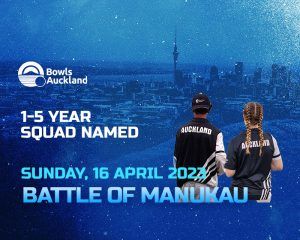 Bowls Auckland is pleased to name its representatives selected for the 2023 1-5 Year Battle of the Manukau being held on Sunday, 16 April at Te Atatu Peninsula Bowls. 
Originally scheduled in 2022, but cancelled due to Covid this head-to-head fixture against Counties Manukau should be an exciting competition with each side consisting of 14 bowlers – three Fours teams, four Triples teams, and six Pairs teams.  
Auckland's squad is as follows:
Men
Zoran Bartulovich, Stephen Campbell, Steve Fisher,  JC Fuller, Ryan Hill, Garry Howard, KJ Lark, Scott McCamish, Darryl Mackie, Craig Moffat, Colin Ayris-Webster, David Weir.

Women
Lisa Appleyard, Rita Bradnock, Jeanine Browne, Sarah Childs, Donna Davison, Clare Denny, Colleen Short, Lee Singer, Karen Spels, Gloria Tenaki, Rhonda Thompson, Loa Tukutoga, Andrea Wilson.

Team officials
Peter Blucher, Garry Cotton, Chris Staples
Congratulations to all the players selected, we wish you all the best on Sunday 16 April 2023.