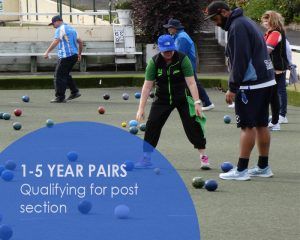 This event commenced on 10 September at three venues across Auckland accommodating 56 entries. The weather goddess sent down the occasional shower to remind us who's in charge.
After two rounds of play, only 15 teams had secured qualification. The statistical guru calculated that 23 more teams could qualify, which would have given the Tournament Convenor a terrible headache. As it was, the tenacity of 1-5s was unwavering, they were prepared to beat the odds resulting in a further 12 teams making the cut.
Post section play was at Epsom on Sunday, 11 September – bowlers had to spill over onto B Green.
R32 Game 10 between Skye Renes and Shaun Goldsbury (Pt Chevalier) and Shelly McCabe and Lana Dowdell (Howick) was an intense battle! The scorecard showed 13-12-13, then 14-14-14, then 15-16-15 and finally 16-18-16. It came down to a tie-break with Howick securing the win by one shot.
R32 Game 5 was Scott McCamish and Jeanine Browne (Composite) versus Robert Shelwell and Steve Waltham (Howick) was another nail-biter. After 16 ends, the score was 13-all. The teams traded twos on the next two ends to sit all square at 15-15 after 18 ends. Another tie-break. Scott and Jeanine scored another two to take the win.
We had some controversy in R32 Game 6 when the lads from Kohimarama were surprised to see their names were omitted in the next round. Checking in with the Convenor, the scorecard was inspected to reveal it had been completed incorrectly. A salutary lesson for all to understand how to fill out the card before starting.
While R16 had some close scores, the winners dominated during their games. The exception was R16 Game 7. Donna Davidson and Jane Segar (St Heliers) met Graeme Thomson and Doug Suurmond (Howick). Neither team gained dominance, neither team scored more than two shots on any end, and the card never had the score tied. Donna and Jane scored first; the lead changed on the sixth end. Once more, on the eighth end and again on the 17th end, Howick was leading 13-12.  Donna and Jane held their composure to score a two, taking the win on the last end.
Quarter Final Game 4 was the St Heliers duo up against Pt Chevalier's Jean-Claude Fuller and Stephen Campbell. Pt Chevalier proved to be too strong to take out the match.
In Quarter Final Game 3, David Motu and Liam Hill (Ellerslie) were matched up against a composite pairing of Scott McCamish (Henderson) and Jeanine Brown (Carlton Cornwall). Ellerslie was too strong on the day.
The scorecards for those two-quarter finals may seem flattering to the winners; however, no quarter was given by the opposition – it was just one of those days where the winners were better.
Quarter Final Game 2 saw Mike Dickie and Bruce Fenton (Howick) versus Steve Fisher and Colin Ayris-Webster (Royal Oak). Royal Oak got off to a flying start, they lead 6-0 after four ends. Howick responded well. After 11 ends it was tied 9-all. Royal Oak must have fancied their chances as they collected seven shots over the next four ends, only to drop seven in the final three ends and see the ledger squared at 16-all. Coincidently, it was also nine ends each. The extra end saw Royal Oak gain some ascendancy, they scored a three to claim the win.
Quarter Final Game 1 saw Epsom's Warwick Catchpole and KJ Lark matched up against Blockhouse Bay's Sitiveni Tikoisuva and Neil Prendiville. The scorecard makes for interesting reading. Blockhouse Bay either scored ones or twos (except for the four on the 9th end) and won 11 ends and scored 16 points i.e. 1.45 shots per end won. In contrast with the Epsom team, they managed 6 ends yet scored 20 points, a factor of 3.33 shots per end won. 
The turning point in the game was on the 14th end when Sitiveni and Neil were leading 14-12. Some fine bowling by Epsom saw them circle the wagon. Before playing the final bowl of the end, Epsom was one up with four-thirds. A well-weighted shot saw the BHB bowl displaced, and the Epsom bowl held for the team to score a six. Epsom hung on for the win, 20-16.
The Pairs was another great competitive event – well-done everyone. I look forward to the Finals.
Contributed by Gerard Hulst